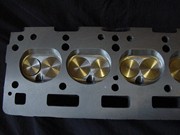 TR6 Cylinder Heads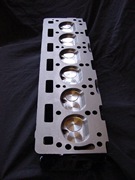 TR6 Fast Road Head
The TR6 heads respond well to modification. Head specs range from Standard Leadfree to Full Race.
When we modify the TR5 heads we usually take .125" from the head face to bring the compression up to UK spec.
As with the TR4 engines, the TR6 requires a camshaft and exhaust change to obtain the best results....and a change to triple Webers produces music to the ears!