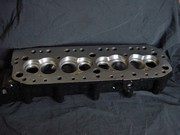 Fast Road Plus
Head
The Fast Road Plus head.....top spec of our Road Range modified cylinder heads. It is fully modified and is fitted with 1.72" inlet valves. The valves have been flow bench developed and designed by David Gollan and myself. They are one piece 21/4N stainless steel and are tuftrided to improve wear resistance......a greyish coating which leaves the valves non polished.
The combustion chambers are dressed back to increase flow and the inlet ports are very slightly increased in size to allow the engine to rev out more.
The head has been developed for very fast road use with 'hairy' camshafts and increased carburetion.....it is not really suitable for standard/mild camshaft use as the opened up chambers may allow the engine to pink (wilder camshafts are less effective in terms of cylinder filling so the risk of pinking with a high compression ratio is substantially reduced).
Bhp increase is approximately 25% at 3000 rpm and approximately 38% at 5300 rpm (standard camshaft and K&N filters).